In 2020 the first TSDCA Education Committee Residency Fellowship program was awarded for the first time. It was put on hold as so much was in the spring of 2020.
You can read more about the fellowship here: https://tsdca.org/2020/03/tsdca-fellowship-residency-program-recipient-announced/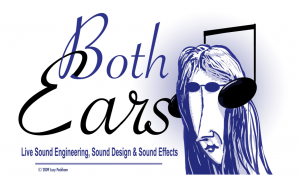 In 2022, recipient Lucy Peckham is finally able to begin her journey. She will keep us updated on this page.  Have a great time, Lucy!
From Lucy Peckham:
April, 2022:  The Fellowship of the TSDCA  Pt. 2:  1776
I'm here in Cambridge at the American Repertory Theatre.  Jonathan Deans, sound designer and mentor is to my right at the tech table, and beyond is Daniel Lundberg, Associate Sound Designer (and BINGO cruise director, he insists!), and Timothy Jerrell, A1 at the DiGiCo SDTen console.
Today is the first day that the cast will be on stage.  It's a spacing rehearsal, without wireless mics or in-ear monitors (IEM). Just the Director, the Music Director, piano and percussion accompaniment, a few costume pieces, God mics, and a house full of design, production and tech teams watching, listening, and working as much as they can without interfering with the spacing.  That is what this first day will be.
I arrived in Boston early because the tech schedule changed after my travel was booked, and COVID in the team caused an additional delay giving me twelve unscheduled days.  Boston's a long way from Anchorage, Alaska, so free time was not a burden.  Boston has a real Spring!  It is a beautiful city, and walking is a wondrous way to explore the history, visit Bunker Hill, Boston Harbor, and see crews rowing on the Charles River among the many lovely possibilities.
My schedule didn't stay empty.  There is a lot going on!  The Education Committee provided referrals to Ben Emerson at the Huntington Theatre, and David Remedios at the Booth Theatre for tours of their respective facilities.  A breakfast meeting with Jane Shaw (in town designing Our Daughters, Like Pillars) came with a comp ticket to see it.  A powerful show… and a few days later Ben gave me a hard hat tour of the renovation underway at the old Huntington Theatre.  I hope to find a way to visit again after it opens next fall.
Surprise! A band I've mixed in Alaska emailed a tour schedule that included a performance just a five minute walk from the A.R.T.   The venue, Club Passim, has a packed schedule, and as I checked it out, I found three more groups I've mixed in Alaska playing during my stay here.  It's also good for me to check out small venue installed systems when I have the chance, so I purchased a ticket to the first of the shows and had great fun surprising the band members and hearing the venue.  I'll try to go to another show there if the tech schedule permits.
Last but not least, I'm an early musician.  I've wanted to buy a bass recorder for years, but have never been anywhere I could try more than one or two.  The Early Music Shop of New England listed over a dozen bass recorders for sale on their website.  I trekked to the shop in Brookline, and as you've guessed by now, I tried many, and bought one I love!
Here is a Gaia GPS map of my Boston walks so far: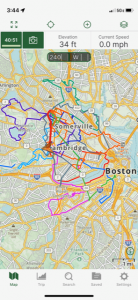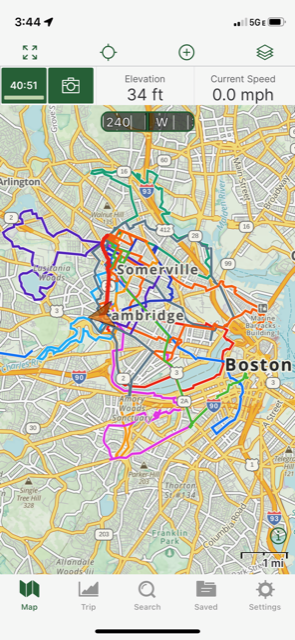 The fellowship began on April 27.   That's when I finally met the whole 1776 sound design team.  Now, I've been a professional sound designer/composer and have designed and mixed musicals and opera since the late eighties, but this team was intimidating.  They are all seriously exceptional in their areas of expertise, whereas my professional life can best be described as good ears with other skills acquired through non-stop on-the-job training.  I know little of the most common professional software, am inexperienced with large FOH consoles, and have almost no experience with the remarkable art of the A2 position.
That confessed, I'm here to learn as much as I can about musical sound design from Jonathan.  I can leave the marvels of software, graphs, and charts to the facility of Daniel who revels in having details at his fingertips.  I can leave navigating the SDTen to Timothy, even though I confess I'll look over his shoulder whenever I can.  I can leave the exceptionally necessary world of the A2 to Kris Meyer and Alison Schaefer, though I'll probably pester them with questions when possible.
Jonathan has already shown that building and supporting his team is integral to his design style. During tech, he is alert to the director, the musical director, and the other designers, always making sure that his sound team is ready for tomorrow's needs, not just today.  His demeanor is precise, focussed, and calm.  It is important to him that he knows the whole cast on sight by name and character name.  He wants them to know that he knows them as individuals.
The cast is large, by the way, twenty two members, plus two standbys, but Jonathan describes this as a simple show, a classic show, and he is designing it that way.  The Meyer system has "only" sixty-three speakers, and I already love the way he is using it – describing his intent ranging from a gently-reinforced classical pit orchestra acoustic sound progressing to classically operatic, and finally full bore Broadway!
Another aspect that is completely new to me is that 1776 has three separate producers, the A.R.T., the Broadway run producer, and the tour producer.  I'm glad that I don't have to unpack that complexity right now.
Next Monday, I'll be back at the Booth Theatre for a lecture by Carl Mulert, Local 829's National Business Rep, followed by Dave Remedios' senior design students' presentations, and a tour of the theatre where I saw their joyful season-closing production of Shakespeare in Love last night.
As I said, my schedule filled up!
My goal is to return home to Alaska with practical information to improve my own musical sound design skill, and to be able to demonstrate what I've learned to interested people who are trying to grow professionally.  This is an unparalleled opportunity, and I'm doing my best to take advantage of it.
Sincerely,
Lucy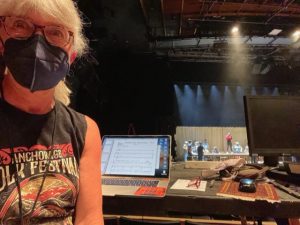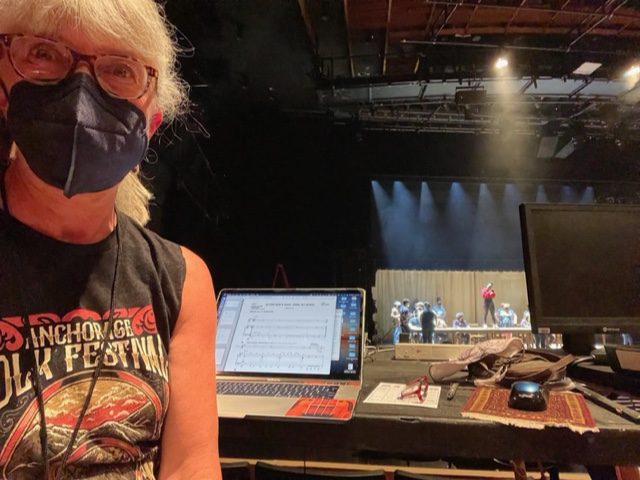 (selfie at my spot)
March, 2022:  The Fellowship of the TSDCA  Pt. 1:  An Introduction
Three years ago, the TSDCA Education Committee offered a funded fellowship for the first time.  Professional member Jonathan Deans proposed an opportunity to shadow him at the American Repertory Theatre (ART) on the revival of 1776 scheduled for production May of 2020.  The fellowship recipient was selected by an adjudicated application process, and was to be awarded to a TSDCA member, generally expected to be in the early career/emerging artist category.
My name is Lucy Peckham, and if we haven't met yet, it's not surprising.  In the TSDCA, I'm known as "the Alaskan."  I am neither early career, nor emerging, though both those could be considered relative terms!  I was completely floored when notified that I was the recipient of the fellowship.
I began sound designing professionally in 1987, and have been designing and composing ever since.  I live and work in Alaska and have my own company, Both Ears Live Sound.  Through it, I do music festivals and concerts between theatre sound designs at Perseverance Theatre, and for a few theatre companies "Outside," (how Alaskans refer to the other forty-nine states).  I'm thrilled to have a show in Seattle right now at 12th Avenue Arts, running through March 27.  It is the American premier of Europe, by David Grieg, produced by Thalia's Umbrella.  If you are in Seattle and read this in time, please go see it.  It's beautiful (fully admitting personal bias), very timely, and it's my first sound design since October of 2019.
Though 1776 was postponed for two pandemic years, it is now scheduled to open in May, 2022. The Education Committee has asked me to write periodically about my experiences during the fellowship.  I'm happy to do this!  My intention is to bring what I learn home to share it, to teach and inspire Alaskan early career/emerging designers with what is possible!
Through this first fellowship, the TSDCA is doing what I believe with all my heart:  If you love what you do, your most important job is to train your successors.  They can come from anywhere, even Alaska!