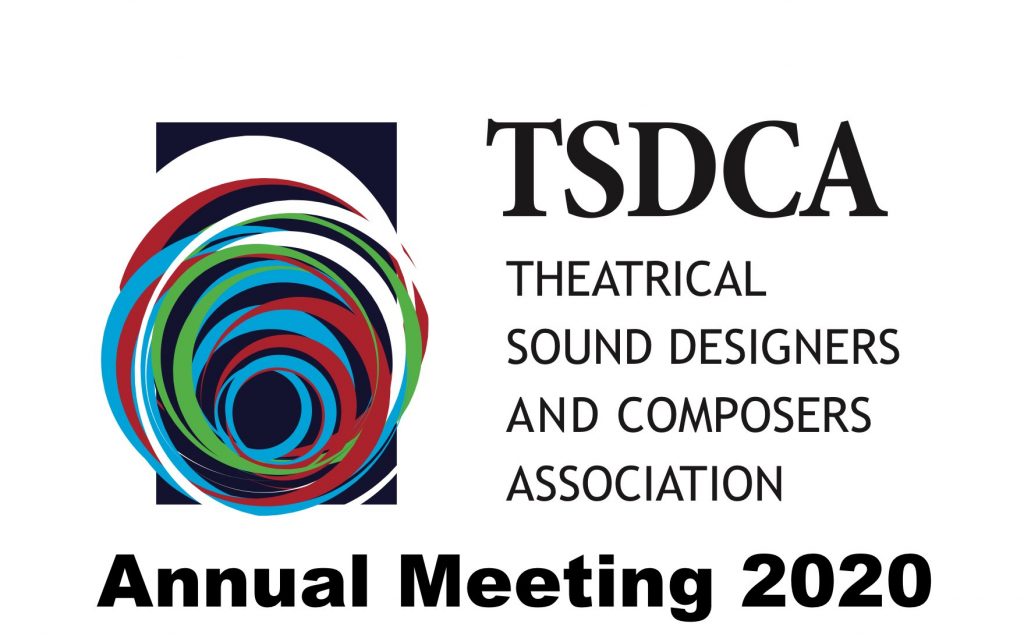 Theatrical Sound Designers and Composers Association (TSDCA) are thrilled to announce their fifth annual membership meeting, with free events being held online for both members as well as the general public. On June 22nd – 27th, the TSDCA will hold six days of public panels and discussions regarding sound design and composition in theatre. 
The fifth Annual Meeting of TSDCA is their most ambitious undertaking yet, as they expand their annual programming to a full week-long event, exploring many topics that are currently at the forefront of the theatre sound community. Guest speakers will include Carin Ford, Polyanna Frangetto, G. Clausen, Nevin Steinberg, Twi McCallum, Jessica Paz, Oliver Patrice Weder, Michal Pukala, Kai Harada, Marc Doty, and many others. The week will also feature a sneak preview of the return of the famed Broadway Sound Master Classes, presented by Questex's Live Design Magazine, which will be introduced by Abe Jacob.
Click here to see the bios of this year's panelists and presenters. 
All events are free and open to the public.
The schedule of events for the fifth annual TSDCA membership meeting is as follows:
(all panels are 90 minutes in length and all times in EDT)
Sessions are available via video for members a few days after the session is completed.
Monday, June 22nd 
12:00pm – Session #1 – "Procedural Sound" – Michal Pukala of Krotos will lead us through a look at what procedural sound is, and how to use different software tools to create it. 
5:00pm – Session #2 – "A More Equitable Future for Sound Design" – G Clausen leads a discussion on the next steps for inclusion in the theatre sound design community with special guests Sadah Espii Proctor, Rucyl, Kathy Ruvuna, Jaechelle Johnson, and Twi McCallum.  
Tuesday, June 23rd 
1:00pm – Session #3 – "Virtual Instruments with Spitfire Audio" – Oliver Patrice Weder of Spitfire Audio digs deep into best practices when creating orchestrations with virtual instruments, and show his tips and tricks on creating more realistic-sounding musical performances.
5:00pm – Session #4 – "Building A Sound Team For Musicals" – Nevin Steinberg and Jessica Paz discuss what they look for in team members when they design musicals for Broadway and regional theatres. This panel is a special sneak preview presentation of the return of the Broadway Sound Master Classes, presented by Questex's Live Design Magazine, and introduced by Abe Jacob. 
Wednesday, June 24th 
5:00pm – Session #5 – "Exploring the Relationship between Sound Designers, Acousticians, AV consultants and Installers" – Jonathan Deans, Polyana Frangetto, Kai Harada, Brad Ward and Jeanne Wu hold a discussion on room and system design for new construction, renovations, and themed entertainment. 
Thursday, June 25th 
5:00pm – Session #6 – "A Conversation with Carin Ford" – An A-List Broadway mixer discusses her career, collaborating with designers, and her work as a founding member of the new organization Black Theatres United, moderated by Joanna Lynne Staub.
Friday, June 26th 
5:00pm – Session #7 – "Introduction To Synthesis" – Marc Doty, host of the popular YouTube channel Automatic Gainsay, leads us through a look at synthesis and how to create new sounds through filters, oscillators and more. Sign up here.
Saturday, June 27th 
2:00pm – Session #8 – "Foldback" – Jessica Paz, Cricket S. Myers, Paul Klimson and Scott Lehrer lead an all-star panel of top designers finally tackling one of the most controversial questions in sound design: am I putting the performers' vocals in the monitors, and if so, exactly how am I doing it? Sign up here.
Also! Join us on Twitch for TSDCA Jam Sessions on Tuesday, Thursday and Friday nights at 8pm right here!
TSDCA is a professional membership organization of sound designers and composers for the performing arts working in the United States. Corporate members and sponsors include: Meyer Sound, d&b audiotechnik, Shure Inc., DPA Microphones, Figure53, L'Acoustics, Lectrosonics, Lighting & Sound America Magazine, Masque Sound, On the Road Marketing, Point Source Audio, Five OHM, and TiMax.