Tony Joy from Sound Particles will discuss the Sound Particles software and plugins as well as:
Stereo & Surround (the foundations for 3D audio)
Channel-Based Audio (e.g. 7.1.2, 12.0, 22.2)
Object-Based Audio (e.g. Dolby Atmos)
Ambisonics (and High Order Ambisonics)
Binaural (3D sound over headphones)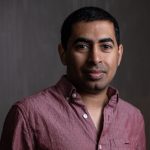 Tony Joy is a Music / Audio Technologist who lives on the cutting edge of Art & Technology. Known for his collaborations with renowned artist A.R. Rahman, he has worked on over two dozen feature films & 250+ mainstream songs. In his current role at Sound Particles, he is working towards democratizing spatial audio & music production.
Click read more to download the Ebook!