20 Years of Design: Reflections on Surround, Spatial, and Localized Sound
Collaborating Sound Designers Martín 

Carrillo

 and Nick Kourtides in discussion about venue and production-specific demands for "Spatial sound" and what applications of methodologies bring to light about the goals at hand and the tools to achieve them.
---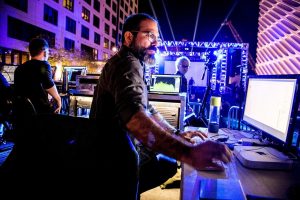 Martin Carrillo
Los Angeles Stage Alliance Ovation Award winner for Sound design in 2004 and 2007, Martín Carrillo has composed music and designed sound environments in a number of contexts and formats since 1996. He was the Sound Designer and Composer for Pig Iron Theater Company's seminal The Tragedy of Joan of Arc (1998 cover of American Theatre) which was a preamble to a migration to Los Angeles for collaborations with Sound Designer François Bergeron in six venues at Tokyo DisneySea (2001). Audio Designer for two main venues at Hong Kong Disneyland (2005). Los Angeles theatrical credits: Eat Me (2004 LA Weekly and Ovation nominated), Have You Seen Alice (LA weekly award for Sound Design 2012, Ovation nominated), Buddy Buddette, Romeo and Juliet: Antebellum New Orleans 1836 (Ovation Award 2004), Heavier Than, American Misfit, Paradise Lost: Shadows and Wings (Ovation Award 2007). Gifts of the Spirit (2017 Ron Athey and the Broad Museum), Baby It's You (2010 NAACP Theatre award for Sound Design Large Venue). He designed the preview installation for Yann Novak and Benny Nielson at the Broad Museum's Skylit,  went on to design the Broad's Openings and Happenings Series 2016-2018 and again now in 2022 featuring concert systems for Cory Henry, Quincy Jones, Perfume Genius, Kim Gordon, Mas Ysa, Benny Nielson, Miho Hatori, Richard Hell, Clipping, Rostam, Ryan Heffington, Sudan Archives. In 2019, he collaborated to provide surround panning with Ren Klyce and Brian Long to Dangermouse and Karen O's Lux Prima: the Encounter at the Marciano Art Foundation. Carrillo has been a resident artist at Occidental College, University of California, Riverside, Orange County High School of the Arts and currently at Los Angeles County High School of the Arts.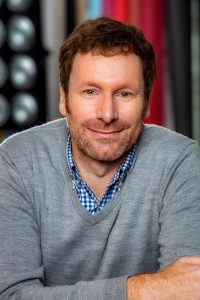 Nick Kourtides
Nick Kourtides designs for musical theatre and creates sound environments for devised ensemble works. His practice for musical theatre is informed by a background in live performance as a multi-instrumentalist in classical, jazz, and rock idioms. His focus is centered on the performability of a work: to support singers', musicians', and generative artists' collective goals, often in mixed genres and unusual spaces. For devised and narrative projects, Nick is an occasional composer and often music curator, but also deeply interested in a cohesive, immersive performance universe that aligns actors with objects and locations, and audiences with the devised reality of the work. He believes that the auralization of this alignment, in collaboration with scenic, costume, lighting, and props designers, can heighten creative and performance outcomes onstage.
Off-Broadway credits include Oratorio for Living Things (Ars Nova), Blacklight (Commercial, Greenwich House), The Lucky Ones (Ars Nova), Object Lesson (New York Theatre Workshop, Brooklyn Academy of Music), Elephant Room (St. Ann's Warehouse), Carson McCullers Talks About Love (Rattlestick Playwrights Theater) and Jomama Jones: Radiate (Soho Repertory Theatre). Internationally, Nick is the Sound Designer for Channing Tatums's Magic Mike Live, with performance installations in Las Vegas, London, Berlin, and Australia. Other Las Vegas projects include Mat Franco: Magic Reinvented Nightly, and Frankie Moreno: Under the Influence. His projects have been presented at festivals including Paris Quartier d'Ete, Barbican Centre, Edinburgh Fringe, Philadelphia Fringe, New York Live Arts, and the Sydney Festival.
Regional credits include Actors Theatre of Louisville, Cincinnati Playhouse in the Park, Cleveland Play House, New York Stage and Film, McCarter Theatre, Center Theatre Group, Folger Theatre, Studio Theatre, Milwaukee Repertory Theater, the Wilma Theater, Arden Theater, Prince Music Theater, and La Jolla Playhouse. Collaborations with Pig Iron Theatre Company include A Period of Animate Existence, Cankerblossom, Isabella, Chekhov Lizardbrain, and Mission to Mercury. With BalletX, Nick designed Sunset o639 Hours at the Wilma, The Joyce Theater, Jacob's Pillow and Vail Festivals. Site-specific designs include works with PearlDamour, Lynn Nottage and Kate Whoriskey, and the Philadelphia International Festival of the Arts. He has taught Sound Design for Live Performance at Drexel University and Swathmore College. Nick received the 2022 Lucille Lortel, 2006 Barrymore, and 2015 Bessie awards. Learn more about Nick at www.nickkourtides.com.
---
Martin & Nick.