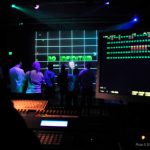 | | | |
| --- | --- | --- |
| Submitted: Rick Thomas | Position: Professor of Visual and Performing Arts, in Theatre and Music | Date: January 23, 2019 |
If you represent this school, and the information below is incorrect, please email info@tsdca.org. If you want to know who TSDCA is a graduate of this program, you can search the member directory.
School Location:
W Lafayette IN
Description of your program:
The MFA program in Sound Design is intended to prepare students for fulfilling careers in professional or educational theatre and the entertainment industry. Emphasis is on the development of a process which will serve students in the practice of their art through a long and varied career. This is accomplished through a balanced training program of classes, work on realized productions, and individualized tutorials. The program is rigorous, time-demanding, and intense. Based on the principle that a good designer is well educated in many areas, Sound Design students may take courses in design (production, sound system, etc.), production (theatre, music recording, audio for video post, radio drama, etc.) music (composition, theory, history), engineering, along with those in sound design and audio technology. The emphasis is on the mastery of subjects specific to individual career goals in order to provide a strong foundation on which to build his/her art. Skills training is an important component of the Purdue program. Coursework is intended to provide a solid basis for the student's professional work in the theatre or a related field. Given the professional focus of the program and the credentials of the faculty, attention in the classroom and in the shop is devoted to the practice of professional theatre. Areas of concern are procedures, techniques, personnel, and opportunities, especially in relation to the regional theatre and live performing arts. The MFA program at Purdue subscribes to the idea that a strong design best rests on a foundation of technical knowledge, and that the study of technology is enriched by an understanding of design. Sound Design classes focus on developing the skills to read a script for its imagery, to develop an auditory environment for dramatic action, to plan a production, to explore the dramatic possibilities of sound, and to communicate ideas aurally and verbally. Particular attention is paid to the designer/director relationship in developing a production concept. Technical skills are developed in various classes. Two types of production training occur. In the Purdue Theatre production model, the production process for each mainstage production is extended over an 18-week period to allow training, exploration and discovery to occur within the production process. Simultaneously, students work at the Elliot Hall of Music, where they are likely to encounter a new challenge every day that must be solved quickly before moving on. In this way, students get the best of both worlds: they learn how to work quickly, and they learn their craft and art in depth.
What makes your program unique:
We are the oldest graduate sound design program in the country (established in 1975), perhaps the world. We are a very small program, and our placement has consistently shown this to be our great strength. We generally don't bring students into our sound program that are not on assistantship, as we have found that the work involved in the assistantship is critically related to the overall educational experience; our assistantships are among the best in academia. Graduate students in our program generally find that they can live pretty well on just the assistantship, and do not need to take on outside work during their graduate studies (outside of summer internships). Entrance into the Sound program at Purdue is extremely competitive, and we generally have many more applications than we can accept into our program.
Current Faculty Names & links to Websites
Rick Thomas
https://www.cla.purdue.edu/rueffschool/theatre/academics/graduate/audiotechnology.html
Type of degree conferred
MFA Sound Design and Composition, Audio Technology
Number of years of study
Three
Approximately how many students graduate from the Sound program each year?
One per year
Description of the venues and facilities the students have access to in our program.
Production Sound. Purdue Theatre has an outstanding audio production studio, 300 seat proscenium theatre, and 150 seat flexible space theatre. The sound system in the Hansen theatre is Dante-based and consists of a Yamaha DM2000 mixing console, a Peavy Media Matrix DSP system (currently upgrading to a QSys system), Crown CTS series (currently upgrading to QSC) amplifiers, and Renkus Heinz speakers. Renkus Heinz PNX121 speakers are positioned above the proscenium in a left-center-right configuration, and three Renkus Heinz subwoofers are mounted near the main speakers. Also, sixteen Renkus Heinz PNX61 speakers are distributed along the sides and rear of the seating area to accommodate surround sound, and four front fills are provided at the stage. The surround speaker positions can be reconfigured and there are multiple speaker lines run throughout the theatre for additional speakers. QLab software is used for sound cue playback. The mix position is in the house, allowing the sound operator to hear the sound as the audience hears it. The sound system in the Mallett theatre is a smaller Dante enabled version of the Hansen theatre and consists of two Yamaha DM1000 mixing consoles, a Peavy Media Matrix DSP system currently upgrading to a QSys system), Crown CTS series amplifiers, and Renkus Heinz speakers, allowing (10) mains, (11) surrounds, (6) front fills and (2) subs in proscenium, thrust, arena and flat floor staging environments. The Renkus Heinz PNX121 and PNX61 speakers can be configured as desired throughout the theatre space. QSC software is used for sound cue playback. Separate high-end portable rehearsal sound systems are available as well as portable rigs for found-space theatre work. Communications. A four-channel Clear-Com system with redundant power supplies is hardwire to all commonly used locations (spot booths, control positions, fly rail, trap room, etc.). A 70V system routes program feed to all commonly used areas (dressing rooms, green room, booth, front-of-house lobby, etc.). All areas have independent volume controls. "All calls," both to the auditorium and to all backstage areas, may be made from either of the Clear-Com base stations. This system will override the program feed to avoid missed cues. The intercom, program and paging system are duplicated in the Hansen and Mallet theatre, allowing interconnection between the two theatres and the audio production studio. Maximum redundancy in equipment is maintained throughout the program's sound systems for ready maintenance, and to allow emphasis on the teaching of concepts, rather than manufacturer's nuances. Students are simultaneously exposed to a wealth of different manufacturer's equipment through work at the Elliot Hall of Music. Sound storage includes a wide assortment of miscellaneous loudspeakers, cabling, wireless equipment, rigging supplies, remote toolbox, etc. In addition, students have opportunities to work in Purdue's (500 seat) Fowler Hall, (1100 seat) Loeb Theatre, (6000 seat) Elliott Hall of Music and outdoor amphitheatre Slayter Center, using a wide variety of sound equipment appropriate to those venues. Audio Production. The audio production studio is relatively unique to theatre programs in the country, featuring a fully equipped digital recording studio featuring over 400 square feet of recording space and a similarly sized control room, It includes an additional isolation booths, mike closet with an extraordinary assortment of world class microphones, separate storage room with mechanical sound effects and percussion instruments, and a fully equipped adjacent audio repair shop with extensive testing equipment, a fully-equipped calibration kit modeled after Bob McCarthy's recommendations. Computing Facilities. The Music Computing Lab features sixteen Macintosh computers and an instructor station running Digital Performer, Finale, NI Komplete, QLab, and more software for beginning sound and music courses. There are four High-End Macintosh computers (three portable, one permanently mounted in the audio production studio) running Pro Tools/Avid, Digital Performer, Finale, NI Komplete, Smaart, Max, QLab, Dante, Yamaha Studio Manager, Toast, and more. A separate Design Lab includes Vectorworks, AutoCad and Ease software for audio engineering and technology drawings.
Description of the production and design opportunities a typical student can expect:
During residency, the graduate sound design student designs on a variety of systems and in a variety of spaces, ranging from the flexible Black Box, to thrust, proscenium, and Union houses. Projects range from class exercises to one-acts, student-directed projects, dance, and mainstage productions. Each subsequent project has a greater support system of technical assistance and an increasing budget. A minimum of one realized design project is required each semester. The culmination of the program is a fully-mounted production, which forms the basis for the Terminal Project or Thesis Paper. In order to strengthen the relationship between design and technology, those MFA students awarded an assistantship with the Department of Theatre may be employed as supervisor of the Sound Studio, theatre sound facilities or by Elliott Hall of Music Productions.
Skills and characteristics looked for when admitting a student to your program:
A limited number of students are selected each year on the basis of resumes, interviews, and portfolio reviews. A visit to Purdue is recommended, to allow the potential student to interact with students and the faculty. Applicants must have sufficient experience to teach beginning courses in theatre sound design and technology or audio production or large venue sound reinforcement.
Skills and characteristics of a successful graduate:
Upon completion of graduate study, the student should have the ability to communicate, both verbally and through their sound, an understanding of the principles of design. They will acquire demonstrated ability in sound design and in related technical skills, an understanding of the work of the director and other designers, an ability to conceptualize and compile research, an ability to collaborate with others, and an understanding of the history and dramaturgy of theatre and design. They will have experience in both Sound Reinforcement and Sound Score creation for a wide variety of disciplines beyond traditional theatre. At Purdue, we're proud of our small size and the close mentoring relationships it allows us to develop with our graduate sound students. Without fail, this approach has resulted in our alums finding the "careers of their dreams." Purdue graduates boast an impressive list of credentials in theatre, education, gaming, manufacturing, consulting, contracting, live production and more. Purdue Alums have won more USITT Graduate Sound Achievement Awards than any other university (7/21), and we place virtually every one of our graduates in substantial positions within the Performing Arts industry.
Where should a prospective student go for further Information?
https://cla.purdue.edu/academic/rueffschool/theatre/academics/graduate/sounddesign.html