The Theatrical Sound Designers and Composers Association (TSDCA), in conjunction with LDI and USITT, announce the sound design winners of the Pat MacKay Diversity In Design Scholarships
The 2019 scholarship winners for sound design are as follows:
Nina Field, Sydney Smith, and Mackenzie Gauthier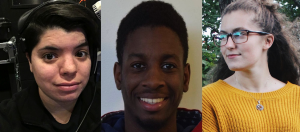 To encourage diversity in the live event design community, TSDCA, in partnership with LDI and USITT, is delighted to announce the sound design winners for the Pat MacKay Scholarships for undergraduate students. The Pat MacKay Diversity In Design scholarships, funded by LDI and Live Design, have been introduced to support the underrepresented and unique voices in the field of entertainment design. The scholarships are named for Pat MacKay, formerly publisher of Theatre Crafts and Lighting Dimensions magazines and founder of the LDI Trade Show and Conference. She is a USITT Fellow and has served as a mentor for multiple generations of industry professionals.
The scholarships are awarded to students currently enrolled in sound design, lighting design, and digital media programs on an undergraduate level, as well as high school seniors who have been accepted to an undergraduate college or university design program. TSDCA supplied 22 judges who evaluated each applicant's submitted materials, with the finalists receiving phone interviews. Each student will receive up to $5000, spread over a maximum of eight semesters, or $1250 per year, paid by semester directly to the school. In order for the students to get the next year's payment, they must show progress toward their degree, show at least a 2.5 GPA, and provide a letter of support from their mentor with an update on how they are progressing as designers. USITT.
TSDCA has also chosen honorable mention recipients in the sound design category: Anna Steere, Forrest Gregor, Jordan Bernstein, Ella Tarczy, Sarah Calvert, and Teresa Sanchez. All winners and honorable mention recipients in the sound category will receive supporting memberships in TSDCA, as well as receive one-on-one mentorship from TSDCA professional members.
Additional winners are: Tyler Christían Harris (digital media), Joss Green (digital media), and Amara McNeil (lighting design).
All the Pat McKay scholarship winners have been invited to attend the 2019 LDI Trade Show and Conference in Las Vegas in November, where they will have the opportunity to meet with leading designers and other industry professionals, and to experience the many learning and development opportunities offered during the event.

"TSDCA is thrilled to partner with LDI and USITT on this scholarship for the next generation of designers for theatre and live entertainment. Over the past couple of years, we have made it a primary focus of our organization to make the field of theatre sound design more welcoming and inclusive for under-represented voices in the theatrical landscape. As we continue to grow our design community, initiatives like the Pat MacKay Scholarship make it possible for those voices to thrive and, more importantly, change the perspective on live entertainment in the future."
– Lindsay Jones
"We were all impressed by the variety of skills, talents, goals and dreams that we encountered." said Melanie Chen, "This scholarship gives the winners a chance to further their explore and learn about the craft and we hope to see them all in the professional world."
– Melanie Chen
Bios of Pat MacKay Scholarship Winners
Nina Field
Nina is a sound and lighting design student in the Theater Design/Technology program at SUNY Purchase. Nina is about to start her senior year, and looks forward to developing her career as a full-time professional. Her latest sound design credits include SUNY Purchase's production of Mr. Burns: A Post-Electric Play and Exit Strategy. She is looking forward to working on the sound design for The Wolves at SUNY Purchase, as well as the lighting design for Marisol and A Bright Room Called Day. Currently, Nina is the A1 for #Dateme: An OkCupid Experiment, as well as working in production audio around NYC for the summer.
Mackenzie Gauthier
Mackenzie (Mack) is a rising junior at the University of Connecticut, studying a BFA degree in Design and Technical Theatre (sound design concentration). Mack was named 2018 New England Scholar by the university and opened her first repertory show as a sound designer, If We Were Birds by Erin Shields at Connecticut Repertory Theatre. Mack aspires to continue creating unique soundscapes for performances that inspire justice, and shed light on difficult narratives within society. Some of her other credits include The Trestle at Pope Lick Creek (Sound Designer, UConn Dramatic Arts Department Series), and Into the Woods (Sound Designer/A1, Chestnut Street Playhouse).
Sydney Smith
Sydney is a rising sophomore at The Pennsylvania State University, majoring in Theatre Design and Technology with an emphasis in Sound Design and minoring in Music Technology. As an artist, Sydney believes that art should be entertaining but should also be thought-provoking and convey a message. Sydney's future career goal is to become a freelance sound designer. He desires to work in theatre, film, and game design as a sound designer/composer and technical sound for live performances. As Sydney continues in the profession, he hopes to spread a positive message with his work.

TSDCA Adjudicators:

| | |
| --- | --- |
| Amy Altadonna | Sun Hee Kil |
| Christopher Baine | Pornchanok Kanchanabanca |
| Brad Berridge | Roc Lee |
| Corrine Carillo | Sharath Patel |
| Melanie Chen Cole | Michael Roth |
| Ien DeNio | Adam Salberg |
| Nick Drashner | Jane Shaw |
| Mikhail Fiksel | Eileen Smitheimer |
| Carlton Guc | Florian Staab |
| Daniel Ison | Joanna Lynne Staub |
| Lindsay Jones | Jeanne Wu |