NYC Sound Designer & Associate Panel & Networking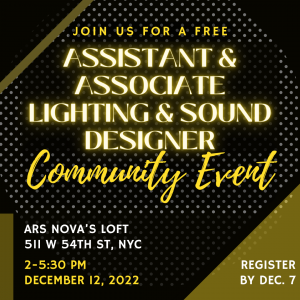 Local USA 829, Theatrical Sound Designers and Composers Association (TSDCA), and Studio School of Design are co-hosting an in-person Designer/Associate/Assistant event!
Monday, December 12 at 2 PM ET. 
Ars Nova's Loft space in New York City (511 W. 54th St.)
Come meet and network with fellow Designers, Assistants, and Associates!
You do not need to be a member of the Union, TSDCA, or Studio School – ALL ARE WELCOME!!
Schedule:
2 – 2:45 PM: Panel with Lighting Designers and Associates
Featuring Marcella Barbeau, Mextly Couzin, Alex Vasquez Dheming, Adam Honoré  Jen Schriever, Craig Stelzenmuller, Aaron Tacy
2:45 – 3:30 PM: Lighting Community Hangout
---
4 – 4:45 PM: Panel with Sound Designers and Associates
Featuring Michael Bodeen, Ien Denio, Lindsay Jones, Sam Kusnetz, Jess Paz, Adam Salberg, Joanna Lynne Staub, and a few special guests…
4:45 – 5:30 PM: Sound Community Hangout
---
Space is limited! Please RSVP by December 7, 2022. A contact sheet will be circulated after the event. Ars Nova's health and safety protocols can be found here. People are welcome and encouraged to mask, but it is not required.
Back to Calendar