Celebrating Women Composers: Nami Melumad, Nerida Tyson-Chew & Macy Schmidt
free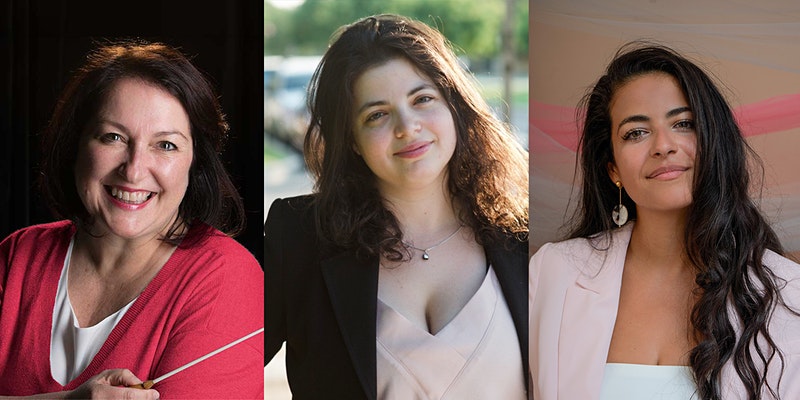 Celebrating Women Composers: Nerida Tyson-Chew, Nami Melumad, and Macy Schmidt hosted by Michael Giacchino, Jeff Kryka and Michael McCuistion
LA 12 PM | NY 3 PM | UK 8 PM
ASMAC is proud to celebrate the music and extraordinary careers of composers:
Nami Melumad, Nerida Tyson-Chew and arranger-orchestrator Macy Schmidt.
Hosted by Michael Giacchino, Jeff Kryka, and Michael McCuistion.
Time permitting, topics include:
Composing Process
Business of Composing
Interacting with Directors and Producers
Virtual and Remote Recording
Q & A and More
BIOS:
Nami Melumad is an Israeli-Dutch film composer, based in Los Angeles, California. Her scoring credits include over 130 projects in a wide range of genres, most notably the HBO Max comedy, An American Pickle, starring Seth Rogen, the Amazon thriller-drama series, Absentia, starring Stana Katic, and EA's VR video game Medal of Honor: Above and Beyond. Nami also contributed music and arrangements to Amazon's latest hit, Borat Subsequent MovieFilm. Her score to the Star Trek episode, Shorts Treks: Q&A in 2019, landed her an upcoming Star Trek series, making her the first female composer for the franchise.
Nominated for Breakthrough Composer of the Year (2020) by the International Film Music Critics Association (IFMCA), Nami's works have screened worldwide and claimed multiple international accolades, including the IFMCA Award for Best Score for a Video Game, the IFMCA nomination for Best Score for a Comedy, the Hollywood Music in Media Award and the Short Score award at Fimucite. Her compositions have been performed by the Hollywood Chamber Orchestra, Haifa Symphony Orchestra, The Israel Sinfonietta Beer Sheva and Helix Collective Ensemble.
An alumna of the prestigious ASCAP Film-Scoring Workshop, Nami graduated from the Scoring for Motion Pictures and TV program at the University of Southern California. She holds a B.A. in multi-style composition from the Jerusalem Academy of Music, where she was admitted directly to sophomore year. She plays flute, piano and guitar, and serves as a board member of the Alliance for Women Film Composers.
Award-winning Australian composer Nerida Tyson-Chew brings a distinct warmth and creative ingenuity to her work. Known for her collaborative approach and versatility across a range of musical disciplines and styles, her portfolio spans feature films, television dramas, children's productions as well as numerous documentaries and wildlife films. Jumping across many genres, Nerida has scored for action, horror, thriller, drama, sci-fi, fantasy, romance, comedy, and adventure.
Some of Nerida's diverse credits include the new Australian feature film H is for Happiness; the BAFTA-nominated hit CBBC Canadian/Australian underwater animated adventure series The Deep; animated French-Australian feature film l'Apprenti Père Noël; Return to Nim's Island for The Hallmark Channel launching the Walden Family Theatre; New York Festivals Gold Medal Winner action drama series Rescue – Special Ops; HD Widescreen Japanese/Australian war film The Last Bullet (NHK); The National Geographic Channel's confronting documentary series Taboo; and Banff Rockie Award Winner wildlife film Silhouettes of the Desert.
With a film-scoring career which began last century, and now entering its fourth decade, Nerida enjoys being a part of screen music history as one of the first female composers scoring on productions in Hollywood, commencing with acclaimed Warner Bros. Television Batman – The Animated Series in 1992. In 2003, Nerida joined the elite league of female composers to score a motion picture for a major Hollywood studio when she was hired by Sony Pictures to score their action/adventure/horror movie Anacondas: The Hunt for the Blood Orchid.
A proud Australian based in Sydney, Nerida's international portfolio spreads across hundreds of hours of film music and is in circulation in over 200 territories.
Macy Schmidt is an Egyptian-American Orchestrator, Music Director, & Copyist based in New York City. Pre-COVID, she could be found working on the Broadway production of TINA: The Tina Turner Musical and the upcoming Disney revival of Aida, and as the Music Supervisor for the musical adaptation of Chelsea Clinton's children's book SHE PERSISTED at Atlantic Theatre Company. Most recently, she served as the Orchestrator for the infamous Ratatouille: The TiKTok Musical (dir. Lucy Moss), for which her work was praised by The New York Times for its likeness to a "classic Disney Act I finale in the brassy manner of Alan Menken."
At just 23 years old, Macy recently founded The Broadway Sinfonietta, an all female-identifying, majority women-of-color orchestral collective designed to uplift the existence, excellence, and equity of female BIPOC musicians in the Broadway industry. The Sinfonietta's debut performance video, which featured Macy's original arrangement of "You're Gonna Hear From Me," quickly caught the attention of the Broadway industry, and shined a spotlight on the racial inequity within Broadway music departments. Since then, the orchestra has become highly sought-after, working regularly under commissions and sponsorships.Her work with the Sinfonietta has been featured by outlets such as NBC, CBS, Rolling Stone, Billboard, BuzzFeed, Grammy Magazine, The New York Times, The Washington Post, Backstage Magazine, Elle, TeenVogue, Playbill, and more. Prior to her career as an orchestrator, Macy worked primarily as a Music Director and accompanist. She has worked with renowned Tony Award-winning artists — from collaborating with esteemed Tony and Oscar-winning lyricist David Zippel (Hercules, Mulan) on a one-night revival of Marvin Hamlisch's The Goodbye Girl starring Kate Baldwin and Santino Fontana, to music directing numerous Broadway benefits & galas featuring performers such as Leslie Odom Jr., Ariana DeBose, Alex Newell, Brandon Victor Dixon, and countless others. Macy has taken her work across the globe as well — from China, where she music directed for an international musical theatre program in Shanghai, to India, where she worked on the music team for the West End-bound stage adaptation of Mira Nair's Monsoon Wedding. As an educator, she has served on faculty at Manhattan School of Music and Cap21 Conservatory, and at Pace University as a professor of Music Theory. Macy is a proud graduate of the University of Florida, holding a B.A. in Music Theory, and a passionate advocate for women in music. She is represented by Paradigm Talent Agency.
Composer Michael Giacchino has credits that feature some of the most popular and acclaimed film projects in recent history, including The Incredibles, War for the Planet of the Apes, Ratatouille, Star Trek, Jurassic World, Rogue One: A Star Wars Story, Spider-Man: Homecoming and Coco. Giacchino's 2009 score for the Pixar hit Up earned him an Oscar®, a Golden Globe®, the BAFTA, the Broadcast Film Critics' Choice Award and two GRAMMY® Awards. Giacchino studied filmmaking at the School of Visual Arts in NYC. After college, he landed a marketing job at Disney and began studies in music composition, first at Juilliard, and then at UCLA. He moved from marketing to producing in the newly formed Disney Interactive Division where he had the opportunity to write music for video games. After moving to DreamWorks Interactive, he was asked to score the temp track for the video game adaptation of The Lost World: Jurassic Park. Subsequently, Steven Spielberg hired him as the composer and it became the first PlayStation game to have a live orchestral score, recorded with members of the Seattle Symphony. Giacchino went on to score numerous video games including Spielberg's Medal of Honor series. Giacchino's work in video games sparked the interest of J.J. Abrams, and thus began their long-standing relationship that would lead to scores for the hit television series Alias and Lost, and the feature films Mission Impossible III, Star Trek, Super 8 and Star Trek Into Darkness. Additional projects include collaborations with Disney Imagineering on music for Space Mountain, Star Tours (with John Williams), the Ratatouille ride in Disneyland Paris, and the Incredicoaster on Pixar Pier at California Adventure. Giacchino was the musical director of the 81st Annual Academy Awards®. His music can be heard in concert halls internationally with all three Star Trek films, Ratatouille, Jurassic World, Up and Coco being performed live-to-picture with a full orchestra. In June 2018, Giacchino premiered his first work for symphony orchestra, Voyage. Commissioned by the National Symphony Orchestra and the Cincinnati Pops Orchestra, the piece celebrates the 60th anniversary of the founding of NASA. In July 2019, a third movement was added for the 50th Anniversary of the Moon Landing. Jojo Rabbit, the critically acclaimed Fox Searchlight film written and directed by Taika Waititi, earned Giacchino a BAFTA nomination this year. His upcoming film projects include Matt Reeves' The Batman.
Last fall, Giacchino's first LP of original music, Travelogue Vol 1, featuring his Nouvelle Modernica orchestra, described as a story in song, dropped by Mondo Records in October. This past November, the holiday song Christmas Number One which he wrote with the songwriting team of Elyssa Samsel and Kate Anderson for the 2019 Royal Albert Hall Christmas Variety Show, was recorded and performed by UK based band Itchy Teeth, and released as a specialty single with Death Waltz Records.
Giacchino serves as the Governor of the Music Branch of the Academy of Motion Picture Arts and Sciences and sits on the advisory board of Education Through Music Los Angeles.
Los Angeles-based composer Jeff Kryka has been awarded by Turner Classic Movies, ASCAP, the RMALA, and the Henry Mancini Foundation. As both a composer and orchestrator, his work has been featured in major motion pictures, TV-shows, video games, and heard in concert halls across the globe. Jeff studied music composition at the University of Wisconsin-Madison (BM 2006) and at the University of California-Los Angeles (MA 2008 & PhD 2011) In addition to his composition work, he has collaborated with composers Michael Giacchino, Laura Karpman, Nami Melumad, Chris Tilton, and Paul Chihara. Some of his recent credits include composing the score for the Disney+ original documentary series The Imagineering Story, and the documentary feature Traces of the Brush, as well as orchestrations on: Medal of Honor: Above and Beyond, Borat Subsequent Moviefilm, An American Pickle, Lovecraft Country, Spider-Man: Far From Home, Jojo Rabbit, Jurassic World: Fallen Kingdom, Incredibles 2, Coco, Rogue One: A Star Wars Story, Doctor Strange, Spider-Man: Homecoming, Jurassic World, Star Trek Beyond, War for the Planet of the Apes, Inside Out, and Zootopia. For more information, and to listen to samples of Jeff's music, please visit www.jeffkrykamusic.com
Emmy Award-winning composer Michael McCuistion writes for film, television, multimedia and the concert hall. Nominated for ten Emmy Awards and four Annie Awards, McCuistion composed and conducted the music for the Oscar-winning short film My Mother Dreams The Satan's Disciples In New York. He began his career composing for the legendary Batman: The Animated Series, followed by years of writing music for many other iconic superheroes such as Superman, Spider-Man, The Justice League, Teen Titans and The Avengers. Other projects include Griffith Observatory's planetarium production Time's Up which has been experienced by millions of visitors to the famous Los Angeles landmark. A founding partner of Dynamic Music Partners along with Lolita Ritmanis and Kristopher Carter, he is currently writing music for the series Young Justice soon to be released on HBO Max.
Back to Calendar