Annual Meeting 2023 – Session 5: Shop Talk!
June 24th to 26th
The relationship between Sound Designers and the Shops. Everything from building long-term relationships to this week's bid. Discussion with Nick Kourtides, Brian Naab of Bauder, and Graham Johnson of 5Ohm.

Brian Naab – Production Manager at Bauder 
Brian got his start in High School stage crew but began working his first job with a Philly based sound company, Clear Sound inc. in 1994.  Surrounded by a talented staff, those were formative years full of learning, honing skills and building good habits.  After five years of corporate audio, a desire to expand his horizons led to a move to Nashville, TN.  The next five years at CTS Audio would allow Brian to work theaters, churches, arenas and stadiums all over the U.S..  Tour buses and airlines would lead to large scale one offs and touring venues of all shapes and sizes.   It was a new world with the advent of digital consoles and DSP.  The systems got bigger and the packaging got better.   The processes became more efficient and the designs more advanced.
In the Fall of 2003, Brian walked into Bauder Audio Systems in Horsham, PA where their production manager had just given his two weeks' notice, and a few days later, took the job offered to him.   Bauder Audio Systems was founded in 1980 by Rick Bauder.  The company was created to serve the Philadelphia, Lehigh Valley and South Jersey areas with Audio and Backline needs.   The company's foundation was strong and Brian's knowledge from his first ten years in the business has helped the company more than quadruple in size over the next 20 years.   In 2014, Brian and Bauder Audio began down a path with L-Acoustics and there's been no looking back.  Starting off as a certified provider for rentals, Bauder Audio quickly became a distributor with Brian leading the company in sales.
With 43 years behind us now, the staff at Bauder Audio system is well trained and the gear is well maintained.  The relationships built over the years are based on service and support.
Brian has been a proud member of Local 8 for 25 years.
________________________________________________

Graham Johnson
 is the owner of Five OHM Productions, a live event production company based out of Long Island City, NY. He has over 25 years of experience in the off-Broadway theater and live events industry. He is a graduate of the University of Florida with a degree in theater production. Johnson started his career as a Sound Designer at the Hippodrome State Theatre in Gainesville, FL before moving to New York and working as a freelance Sound Designer and technician.  In 2007, Graham began working as the SVC Supervisor for Signature Theatre Company, where he was responsible for the audio and video aspects of all of the company's productions and events. He founded Five OHM Productions in 2008 to offer consistency, structure, and balance for the off-Broadway freelance community and theaters alike.
________________________________________________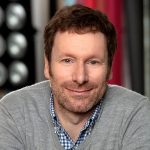 Nick Kourtides designs for musical theatre and creates sound environments for devised ensemble works. Nick received the 2023 OBIE, 2022 Lucille Lortel, 2006 Barrymore, and 2015 Bessie awards. Off-Broadway credits include Oratorio for Living Things (Ars Nova), Blacklight (Commercial, Greenwich House), The Lucky Ones (Ars Nova), Object Lesson (New York Theatre Workshop, Brooklyn Academy of Music), Elephant Room (St. Ann's Warehouse), Carson McCullers Talks About Love (Rattlestick Playwrights Theater) and Jomama Jones: Radiate (Soho Repertory Theatre). Internationally, Nick is the Sound Designer for Channing Tatums's Magic Mike Live, with performance installations in Las Vegas, London, Berlin, and Australia. His projects have been presented at festivals including Paris Quartier d'Ete, Barbican Centre, Edinburgh Fringe, Philadelphia Fringe, New York Live Arts, and the Sydney Festival.
Regional credits include Actors Theatre of Louisville, Cincinnati Playhouse in the Park, Cleveland Play House, New York Stage and Film, McCarter Theatre, Center Theatre Group, Folger Theatre, Studio Theatre, Arena Stage, Milwaukee Repertory Theater, the Wilma Theater, Arden Theater, Prince Music Theater, and La Jolla Playhouse. Collaborations with Pig Iron Theatre Company include A Period of Animate Existence, Cankerblossom, Isabella, Chekhov Lizardbrain, and Mission to Mercury. With BalletX, Nick designed Sunset o639 Hours at the Wilma, The Joyce, Jacob's Pillow, and Vail Festivals. Site-specific designs include works with PearlDamour, Lynn Nottage and Kate Whoriskey, and the Philadelphia International Festival of the Arts. He has taught Sound Design for Live Performance at Drexel University and Swarthmore College. Learn more about Nick at www.nickkourtides.com.
OUR EIGHTH ANNUAL MEETING : This Year In Philadelphia!
All events are free and open to the public.
Sessions are available via video for members a few days after the session is completed.
Back to Calendar