Ancient Mexican Instruments / Paraguayan Harp and Indigenous Voices
free
2 hours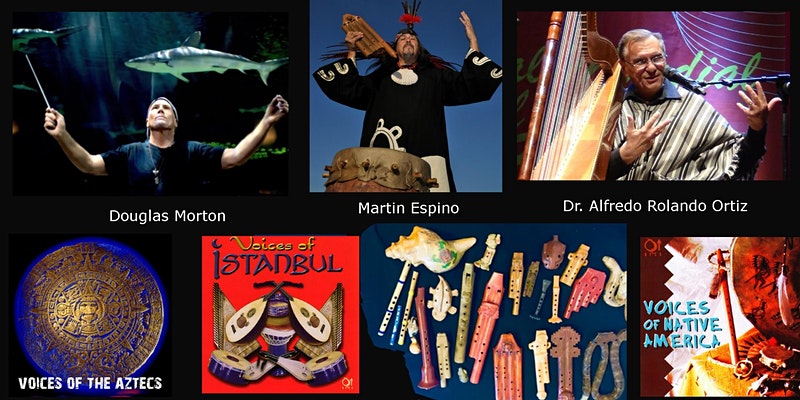 Ancient Mexican Instruments with Martin Espino , Paraguayan Harp with Dr. Alfredo Rolando Ortiz and Indigenous Sample Libraries with Douglas Morton
Sat Aug 21, LA 12 PM  |  NY 3 PM  |  UK 8 PM
Martin Espino will demonstrate various ancestral wind and percussion instruments that offer different and unusual sonorities, timbres, and shares suggestions for use in film.
Douglas Morton, president and founder of Q Up Arts demonstrates various Indigenous Sample Libraries including Voices of Native America and shares his experience of the recording process.
Dr. Alfredo Rolando Ortiz will demonstrate and discuss the Paraguayan Harp with some exciting performances.
Bios:
Martin Espino's native heritage is Yaqui (Sonora, Mexico) & Tepehuano (Durango, Mexico). He is a performer, teacher, scholar and instrument builder. His work has encompassed ages as early as preschool to adults, special needs population and recently the deaf & hard of hearing community.
He has spent 50+ years of engaging audiences, transforming ordinary spaces into inviting and inclusive performance spaces, if not sacred spaces where the music can take place.
Since 1968, Martin has performed locally, nationally and internationally as a soloist and with his various acclaimed ensembles. He is one of the few "original revivalists" of the ancient musical instruments of Mexico who lives outside of Mexico. With these indigenous instruments, he has worked in nearly every field of music: Traditional/ceremonial Aztec dance; Classical ensembles (Quinteto Latino and Brass Band of Battlecreek); Modern composers (Justin Hurwitz, Ben Lovett, Carla Lucero, Tony Humecke, Amy Knoles, Elisabeth Waldo, Brad Kelly, to name a few; mixing avant-garde music and world instruments with his ensembles "NO MAMBO" (1995-1998); creating new works for indigenous American wind instruments and world percussion for "NAHUALLI ENSEMBLE" (1992-2000) with Cassio Duarte and Brad Dutz. His latest project, ELECTRA AZTECA mixes world, electronic, native and jazz fusion. He is also an experimental "sound" artist.
As a Master Teaching Artist, Martin was one of the first to give lectures and educational performances on El Dia de Los Muertos, Ancient California as well as The Ancient Music of Mexico and other North, Central and South American music and culture, and Origins of Mexicanos. Since 1975, he has built a reputation as a recognized scholar in the music and culture of Ancient Mexico.
In the early 1980s, he developed a technique he calls "Interactive Performance," which involves the audience of all ages playing on ancient Mexican instruments at a time when no one used "interactive" in conjunction with music.
Martin gives strongly researched information, culture, history and breaks the myths about the Americas and its original people…but mostly he adds his passion, spirit and humor to reach out. He also provides Soundbath and Meditation events applying his study of Neuroscience!
Since the COVID pandemic, his career has been reinvented to more online work and music sessions for motion pictures!
Douglas Morton, president and founder of Q Up Arts
"Developing audio content is a labor of love. My hope is you will be inspired to create enduring beautiful music with these sounds for years to come." Douglas is the president and founder of Q Up Arts. He designs audio content and music for wide variety of clients, products and apps and has pioneered the use of digital audio samples in music, film and game production. He's been producing sample and loop collections since the early 1980s. Starting his career at E-Mu Systems in Santa Cruz, California, then Optical Media International (OMI) in Silicon Valley producing the acclaimed Universe of Sounds, the first cd.rom releases that began the sample industry. Douglas's work at OMI enabled hardware samplers to connect to cd.rom drives, an industry first.He founded Q Up Arts in 1993 in Santa Cruz, California.His sonic designs have been heard in hundreds of feature films, network television and games including The Patriot, The Sheltering Sky, Portlandia and The X-Files for over three decades. His music for aquariums has immersed millions of people in the underwater worlds of California's Monterey Bay Aquarium and Utah's Loveland Living Planet Aquarium.Douglas continues his production work in studios in Los Angeles, California and Park City, Utah.
Dr. Alfredo Rolando Ortiz
Internationally acclaimed by the critics, Dr. Alfredo Rolando Ortiz is a CONCERT ARTIST, COMPOSER, AUTHOR, EDUCATOR and GOLD RECORD WINNER RECORDING ARTIST.
His performances for audiences of all ages and backgrounds are unforgettable music experiences with exciting Latin American rhythms, traditional, classical and popular music as well as his original compositions. Fascinating commentaries about the music are interspersed throughout his recitals.
With his ARPA PARAGUAYA (Paraguayan Harp), Dr. Ortiz has performed SOLO RECITALS, CONCERTS WITH SYMPHONY and CHAMBER ORCHESTRAS (performing his own "South American Suite for Harp and Orchestra"), EDUCATIONAL SCHOOL ASSEMBLIES for students of all ages and WORKSHOPS and MASTER CLASSES for ALL HARPS around the world.
Back to Calendar