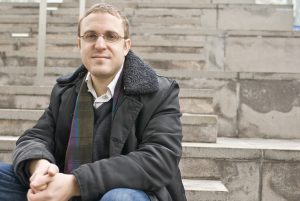 Josh Schmidt is considered a home town sound designer and composer by his Chicago, New York and Milwaukee peers. For the record, he calls Brooklyn home, although his design work takes him everywhere from Idaho to the Stratford Shakespeare Festival in Canada.  His musical adaptation of Adding Machine garnered him a Lortel and Outer Critics Circle Awards with its off Broadway production in 2008. He wishes there were more hours in the day: see why below!
What are you working on at the moment?
Sound Design/Composition: Her Requiem at LCT3, Luna Gale at Cleveland Playhouse, Arcadia at Writers Theatre, Love's Labours Lost at Great Lakes/Idaho Shakespeare, Comedy of Errors and Eurydice at American Players Theatre, John Gabriel Borkman at Stratford Shakespeare Festival.
Composition: Fallingwater at Metropolitan Opera (Dick Scanlan, Libretto)
The Corner of Your Mind (Workshop – Playwrights Horizons. Keith Glover, book and co-lyrics; Mark Brokaw, director)
Midwestern Gothic (Signature VA: Royce Vavrek, book and co-lyrics; Matt Gardiner Director)
Jacob's Hands (Acting Up Stage Company (ON); Anton Dudley, book and lyrics; Robert McQueen director)
Boys of Summer  (CraneKahn; Rupert Holmes, book and lyrics; Joe Calarco, director)
Dance Girl Dance (Therese Rebeck (book and co-lyrics)
LIFEafterLIFE – (David Simpatico, libretto; Jonathan Butterell, director)
Harley's Place  (Warner Brown, libretto)
Searchers (Brett Neveu, book and co-lyrics; David Cromer, director)
Gogol (Austin Pendleton, book; Todd Almond, director)
What is the most exciting thing happening this season that you are not working on?
The Effect at Barrow Street Theater NYC
Mary Page Marlowe  at Steppenwolf Theater Company in Chicago
Where were you born? Where do you live now?
Born in Milwaukee WI, now living in Brooklyn, NY.
Describe one of your most successful collaborations in the theater. How or why was it successful?
Adding Machine – a perfect storm of talent from the writers (me and Jason Loewith) producer (Next Theatre (RIP) and Scott Morfee (NYC),  director (David Cromer) design (Tak Kata (NY) and Matt York (CHI) (set), Keith Parham (lights), Kristine Knanishu (costume), Tony Smolenski (sound), Peter Flaherty (projections) and cast (Joel Hatch, Amy Warren, Cyrilla Baer – just to name a few) on down…
Who or what makes up your support structure?
My wife Amy Martinez-Miller is the most supportive and generous person I know. My family is very supportive. I have been lucky to have great assistants and associates (like Toby Algya, Ben Truppin-Brown and Rachel Spear), and also my designer peers never let me get away with any shit.
What is your favorite piece of music at the moment?
I have been obsessed with the entire recording output of STARS OF THE LID.
Name a pet production peeve.
Lack of communication before money is spent. It is the road to hell on all fronts.
What is your favorite meal during or before tech?
Usually something unhealthy. But when my wife makes me vegetarian enchiladas to go, those are the best.
Do you play an instrument?
Piano, percussion…
How old were you when you knew you wanted to be involved in theatrical sound?
21 – but I sorta got drafted into it. Not complaining though….
Did you have a sound design or composition mentor? If so, how did they help or guide you?
many…
Yehuda Yannay (composition/life). Jon Welstead (electronic music/sound design). Steve Nelson-Raney (composition and jazz theory) Ellsworth Snyder (piano) Richard Carsey (music direction) Rob Milburn/Michael Bodeen (sound design) Dan Gnader (engineering)
Where do you find inspiration?
In the multitude of stupid mistakes both myself and others inflict upon the world.
Was there a show or experience that drew you to sound design or composition?
Candide at Skylight Opera Theatre (MKE) 1991.
What programs are we likely to find open on your computer?
Finale/Pro Tools/Ableton Live/Logic/QLab
Was there a piece or type of gear or program that revolutionized how you work?
QLAB – Finally!!!
If you couldn't have a career in a field related to this one, what would you want to do?
I would teach history. Or sweep floors.
What do you hope TSDCA can accomplish?
A new sense of value to our work and a network of  people "passing the torch" and all the knowledge that goes with it.