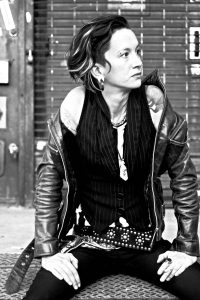 Jessica was the Associate Sound Designer for Fela, taking it from a 2007 workshop to its Tony winning Broadway run in 2009.  She then executed the design for its return home to Lagos, Nigeria, and the US National Tour. Selected New York credits include A Life in the Theater (MTC),  Ugly Lies The Bone (Roundabout); A Sucker Emcee (LAByrinth); The Muscles in Our Toes (LAByrinth); The Kings Whore(Starcatcher Productions) Becoming Dr. Ruth (Westside Theater); Looking for the Pony (Vital Theater Co.); Women Beware Women (Red Bull Theater); and STRETCH – A Fantasia (New Georges).  She has worked on everything from a multitude of Shakespeare productions at Shakespeare on the Sound to 9to5 the Musical at North Shore Music Theater.
What are you working on at the moment?
I just finished up the Sound Design for Roundabout Theater Company's premiere of Ugly Lies the Bone and a summer at the Delacorte as the Assistant designer for The Public Theater's Shakespeare in the Park Season. Next up I'm working with comedian Kristina Wong on her one woman show at REDCAT in LA where I'm the sound designer and projection programmer for her tour of The Wong Street Journal.
What is the most exciting thing happening this season that you are not working on?
Hamilton, Fun Home, Eclipsed…. I can't say I get to see much theater with my schedule, but I try very hard to do so when I can.
Where were you born…and where do you live now?
Native of Williamsburg, Brooklyn – now living in Astoria with my girlfriend.
Describe one of your most successful collaborations in the theater.
Working with Jen Wineman on A King's Whore comes to mind… it was just so much fun and our communication was stellar… working onUgly Lies the Bone was a great success for me as well. I felt quite proud of my work on that show. Working with Jenny Koons, Rich Medina, and Craig Grant on A Sucker Emcee for LAByrinth Theater company…. probably the most rewarding because I felt like all design elements were honored in that room and that my creative input as a designer was not only valued in regard to the sound design but for it's contribution to the production as a whole. Jenny and I communicated so well and Rich and I spoke a similar language… Jenny and I felt like a directing team as opposed to a Director/Designer… If I could replicate that on every project I work on I would be in heaven.
Who or what makes up your support structure?
My girlfriend, my close friends. Fortunately they are all in the business in one way or another so we bond on so many levels.
What is your favorite piece of music at the moment?
I'm a little bit obsessed with a musician called SIDECAR TOMMY and the artist NOOSA.
Name a pet production peeve.
Elongated Shop Bid process, especially when shop award result is already pre-determined… in other words, not a bid at all.
What is your favorite meal during or before tech?
Bacon, Egg, and Cheese for breakfast…. sometimes I add Avocado… Coffee for certain… Always coffee.
What instruments do you play?
I played Flute for quite a few years when I was younger… lately I dabble with Keys.
How old were you when you knew you wanted to be involved in theatrical sound?
21 actually.. I started in Stage Management and Props before finding Sound Design and I just fell in love…
Does your family understand what you do?  How would they describe what you do?
They think I do lighting.
Did you have a sound design or composition mentor? If so, how did they help or guide you?
Rob Kaplowitz and I worked together for many many years and he had a big influence on my creative process and dramaturgy skills. His belief in my abilities and talents always meant so much. He has fantastic instincts. Sunil Rajan is still one of the best mixers I know and although he's no longer with us still has a big influence on the way I mix and how I listen in the room.
Where do you find inspiration?
Everywhere, especially Film and Music Production… In those mediums you have the ability to rewind and tweak a mix until forever, a luxury we don't have in a live music or theater environment… I also find technology so intriguing, especially now because it's changing so much more quickly than it ever has and is putting more an more powerful tools in our hands each day.
Was there a show or experience that drew you to sound design or composition?
Batboy the Musical… A community theater production of that show was the first time I ever stood behind a console… from then on I considered myself a sound designer.
What programs are we likely to find open on your computer?
My guilty pleasure at the moment is SimCity…. other than that… Logic, Ableton Live, Waves Plugins, QLAB, Vectorworks, Excel, Filemaker
Was there a piece or type of gear or program that revolutionized how you work?
Ableton Live… I took a 3 months course in the program and it's ability to be a performative tool made it much easier for me to interact with the sound I'm trying to create.
If you couldn't have a career in a field related to this one, what would you want to do?
Likely I would work with my hands… Leather, jewelry, clothing design.
What amazing places has your work taken you?
London and Plymouth England. Lagos, Nigeria, Australia, New Zealand and across the US.
What do you hope TSDCA can accomplish?
Help to reverse the ever shortening tech period in favor of longer preview periods, as well as time commitment vs. fee.
Education within the theater community at large about the art and creative process involved in a sound design to facilitate an understanding of the contribution of a successful design makes to a show's overall success.