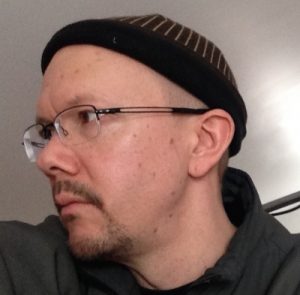 Composer and sound designer Obadiah Eaves works on projects ranging from Broadway's Lieutenant of Inishmore to commercial jingles and scores for Nickelodeon and the HBO Family Channel. He has collaborated with the rock musician Stew (Passing Strange) and the directors Joanna Settle, Daniel Sullivan, Tina Landau, Woody Allen, Lynne Meadow and Jo Bonney. Obadiah was awarded a Lucille Lortel award for Nine Parts of Desire and an Audelco "Viv" for Fuckin' A at the Public. Since 2007, Obadiah has designed the music and sound for Fisher Price toys such as Dora the Explorer and Bubble Guppies. His past life: Obadiah played the electric violin in the band Big Hair throughout the nineteen nineties!
Learn what he is up to below….
What are you working on at the moment?
I'm working on a production of Dylan Thomas' Under Milk Wood, which is being directed by Nigel Maister at the University of Rochester. It was written for the radio and is more of a text than a play, which makes it an interesting challenge to stage in a full production.
The University gave me my first job composing and designing sound around twenty years ago, and I've been back at least once in every year since. They have a very adventurous and intellectually ambitious program. Most of the students are not theater or even English majors, but they're more committed than many of the aspiring career actors I've seen at other schools, and they're given very challenging material so the rewards can be great for them.
I'll also be starting on a production of Nick Payne's Constellations at Seattle Rep soon, and I'm just wrapping up work on a Thomas the Tank Engine toy that plays the blues, raps, and shreds on guitar. No, really!
What is the most exciting thing happening this season that you are not working on?
I'm a pretty big fan of country, bluegrass, and old-time music, and also of Kenneth Lonergan, so I'd love to be working on his play Hold On To Me Darling, about a celebrity country singer returning to his hometown, at the Atlantic this spring.
Where were you born?
I was born in Albuquerque, and when I was in high school my family moved to Rochester, New York. Along the way I lived for short stints in New Orleans, London, and Durham, NC.
Where do you live now?
White Plains, New York.
Describe one of your most successful collaborations in the theater. How or why was it successful?
Later in the spring I'll be working on Stew and Heidi Rodewald's The Total Bent at the Public with director Joanna Settle. I've been working with her for many years, and we've always had similar ideas of how to use sound very proactively to give each piece shape and flow. From early on, she had a better grasp of sound than most sound designers I knew, had a lot of respect for our discipline, and put up with a lot of strong opinions from me. For my part, I hold her in high regard for her ability to take a snippet of text from almost anywhere and make the absolute most out of it. She has vision, and she has the iron will to get that vision on stage even when resources are scarce.
Who or what makes up your support structure?
I'm kind of a homebody, so my family (nuclear and extended) is at the center of things for me. I'm lucky to be married to the woman of my dreams, and she also happens not to be a freelancer, which is helpful.
What is your favorite piece of music at the moment?
My favorite music of the past two years is Jason Isbell's Southeastern, the entire album from beginning to end. I'm not always very tuned in to lyrics, but you can't deny the greatness of his craft. My children and I have been enjoying Max Richter's new composition Sleep, a long-form work that's meant to be performed overnight at the center of a room full of beds where the audience sleeps. I'm liking the new Major Lazer as well. The first Major Lazer song I ever heard, "Hold The Line," is almost a work of sound design.
Name a pet production peeve.
Sometimes a preview period goes on a little too long, people get nervous, and the design gets picked over so thoroughly that it starts to get worse instead of better. It's kind of tragic when you see the trajectory turn downward, and there's only so much you can do about it.
What is your favorite meal during or before tech?
I often pick up a box of lamb samosas from Cafe Spice at Grand Central on my way to tech. They're satisfying, affordable, and a big hit of protein at just the right time of day. For dinner, I love Chong Qing Spicy Chicken at Grand Sichuan.
Do you play an instrument?
My best instrument is the violin. I play (or at least used to play) a very solid bass guitar, reasonably decent acoustic guitar, and have bits and pieces of a few other stringed instruments that I can resurrect when I need to.
How old were you when you knew you wanted to be involved in theatrical sound?
Although my parents took me to theater from a very early age, I didn't really know such a thing existed until I was twenty-three. From the very first production that I did, I knew that I wanted to keep doing it, but at that time I don't think there were many, if any, university programs. I just decided that I would move to New York and see if I could make it happen.
Does your family understand what you do? 
My brother is an actor and my parents are veteran theatergoers, so they understand perfectly.
Did you have a sound design or composition mentor? If so, how did they help or guide you?
I'm pretty thoroughly self-taught. I never did the assistant thing much, or the crew thing at all; I mostly worked my way up from designing tiny shows to less-tiny shows.
That route had its pluses and minuses. I was able to focus on what I did best, and learning how to do it my own way. Some of the things that I do to this day aren't technically correct, but work great for me; I might easily have gotten caught up in doing things the correct way at the expense of the best aesthetics. But I missed out on some technical and process things that I might have learned more easily by watching —there were quite a few rough shows where I had to fake it to some degree, and I wasn't always successful in that. I did work for a while with Don DiNicola, a great guy who helped me make the jump from Off-Off to Off-Broadway, but he left the theater world for greener pastures.
Where do you find inspiration?
Of course I'm often inspired by film composition and sound editing. The level of craft those disciplines have reached, particularly sound, is astonishing. But then, sometimes I'm almost as inspired by just sitting, closing my eyes, and listening to what's happening around me.
What programs are we likely to find open on your computer?
I do almost all of my work in Logic Pro X. I use a lot of the usual Waves plugs, but lately I'm enamored of Tokyo Dawn Labs' super-clean Feedback Compressor. Despite Audio Ease's many failings, a sound designer should always have a copy of Speakerphone handy. When not recording acoustically, I often use Vienna Instruments, Toontrack Superior Drummer, and Spectrasonics Trillian, among many others.
Was there a piece or type of gear or program that revolutionized how you work?
I learned to record music in high school using those little 4-track cassette machines. When I was in college, it was the tail-end of the reel-to-reel days and DAWs were just coming into existence. They made it possible to work the way I do now. I'm kind of a control freak about my work so I record as much of it myself as I can. I don't like to do a session and then sit in tech stuck with only edits from that session, or having to call for another one — I want to be able to change everything myself overnight, if not right there at the tech table.
But for the first several years of my career the content still had to be played back on MiniDisc or other formats. I would take all the notes for a day's tech, get home at one in the morning, and then roll out of bed at five or six AM to change the music and sound and transfer it to disc once again before tech. When reasonably robust playback automation software for live performance became widely available (the first that I used was SFX), it changed my life. I got those few hours back each day, and I was able to address notes immediately, of course, but the best thing was that I could improvise fluidly in tech, working more like a lighting designer, which was a whole new way of thinking. I still plan ahead a lot, but when you have ideas in tech and have the freedom to follow them wherever they lead, it can be very satisfying, especially if you remember how it was done back in the day.
If you couldn't have a career in a field related to this one, what would you want to do?
In my other life, the one where I do things that I'm not at all cut out for in real life, I'd do something solitary and outdoors. Forest Service? Also, it would have to be work that is strictly nine-to-five. And there can be no deadlines.