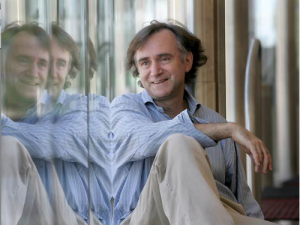 Michael Roth is a composer, musician, music director, arranger, orchestrator, pianist and sound designer whose work stretches from chamber music to film. He has developed scores for new plays by writers such as Sam Hunter and Sarah Ruhl, written music for one man shows by both Christopher Plummer and Stacy Keach, worked with luminary directors such as Des McAnuff, Daniel Sullivan, and Anne Bogart, and done more shows than one can count at South Coast Repertory and La Jolla Playhouse. He often collaborates with Randy Newman, and was the musical director for Newman's The Princess and the Frog, a Disney Animated Feature. Michael's Broadway credits include Brooklyn Boy and A Walk in the Woods.
Where were you born?
Brooklyn
Where do you live now?
I split my time between Santa Monica (5 blocks from Brecht's old house) and San Diego.
Describe one of your most successful collaborations in the theater. How or why was it successful?
My intuitive answer unfortunately involves dropping a name or two. Composing the music for Christopher Plummer's one-man show A WORD OR TWO – a celebration of poetry and literature, and not a show-biz memoir – was a genuine collaboration. The first week of rehearsals (in Stratford) were him and me alone in a room around a piano (and synth and computer) – he would go through sections of the play, I would improvise, and we just kept working for a week like that – every so often I would realize that I was in fact sitting at the piano improvising while Mr. Plummer (Mr. Von Trapp et al) was working, and realize how ridiculously lucky I was to be there (thanks to Des McAnuff and, well, Canada). I'd be remiss if I didn't add that any of the times that I've collaborated with Randy Newman over the past 20 years has been an honor and an enormous learning experience.
What is your favorite piece of music at the moment?
Sorry, can't name one – so – not all-inclusive, but a start: Nancarrow's ETUDES; Igor S's AGON; the EROICA (always); Perotin's VIDERUNT OMNES; STRAWBERRY FIELDS FOREVER; Carter's String Quartets; Golden Gate Quartet's HUSH; Randy N's REAL EMOTIONAL GIRL, DAVY, and KARL MARX; Stevie Wonder's LATELY; Rodgers & Hart's YOU ARE TOO BEAUTIFUL; MOSES & AARON; Cage's 4'33" and the prepared piano ETUDES; Fiona Apple's short song for THE AFFAIR; many many other things — and I get a kick out of Taylor Swift, too, no kidding.
What is your favorite meal during or before tech?
Pad See Ew – or a brisket sandwich.
Do you play an instrument?
Piano, keyboards, some guitar
How old were you when you knew you wanted to be involved in theatrical sound?
18 or so, but I didn't know it was sound, I just knew it was creating music and sometimes for theatre – there really wasn't anyone among my friends or folks I was working with back then who was talking about sound design as it's practiced now per se when I first started thinking about doing this sort of thing in theatre – maybe Richard Foreman to some extent, as Dan Schreier would know.
Does your family understand what you do? 
I think my being a composer was thoroughly baffling to my parents, and no one else in my family is musical – though nowadays my sister and her family see and very much support what I'm up to. I'm sort of overwhelmingly envious of anyone who at anytime played music with a parent – that is very emotional for me to watch, perhaps as it's impossible for me to imagine – or, to state the obvious, remember.
Was there a show or experience that drew you to sound design or composition?
A show that had no sound first made me think about all of this – seeing GODOT for the first time (when I was in high school, a school trip with a class that had an extra ticket and gave it to me – I had no idea what the play was, what it was about, who Beckett was, etc.). It was the experience that made me realize what art was (well, that and hearing SGT PEPPER for the first time). I always thought that life was a strange thing; I had no idea until that evening that art could express just that, and I guess it's true that I've kept that vision in my mind ever since. There was no sound design for that production of course – though perhaps my setting/treatment of Beckett's IMAGINATION DEAD IMAGINE (for string quartet and laptop with recorded voices) is my way of saying that with Mr. Beckett you have to create your own context to provide music and sound for him – maybe – – (and, in a letter that I'll always cherish, he gave me permission to try).
What programs are we likely to find open on your computer?
Finale and pro-tools (and probably Quicken too….)
Was there a piece or type of gear or program that revolutionized how you work?
Let's just say the laptop with pro tools and finale is something I sure didn't have for the first 15 years or so of my career – so I do not take for granted that everyday I write or edit something in music or audio that might have been impossible to imagine let alone accomplish when I started. And the new opera, composed for and to be premiered online, is impossible to imagine in any fashion (subject matter, relative ease of filming, distribution, and creation of the score) without recognizing and embracing what's happened in technology in the past 15 years or so.